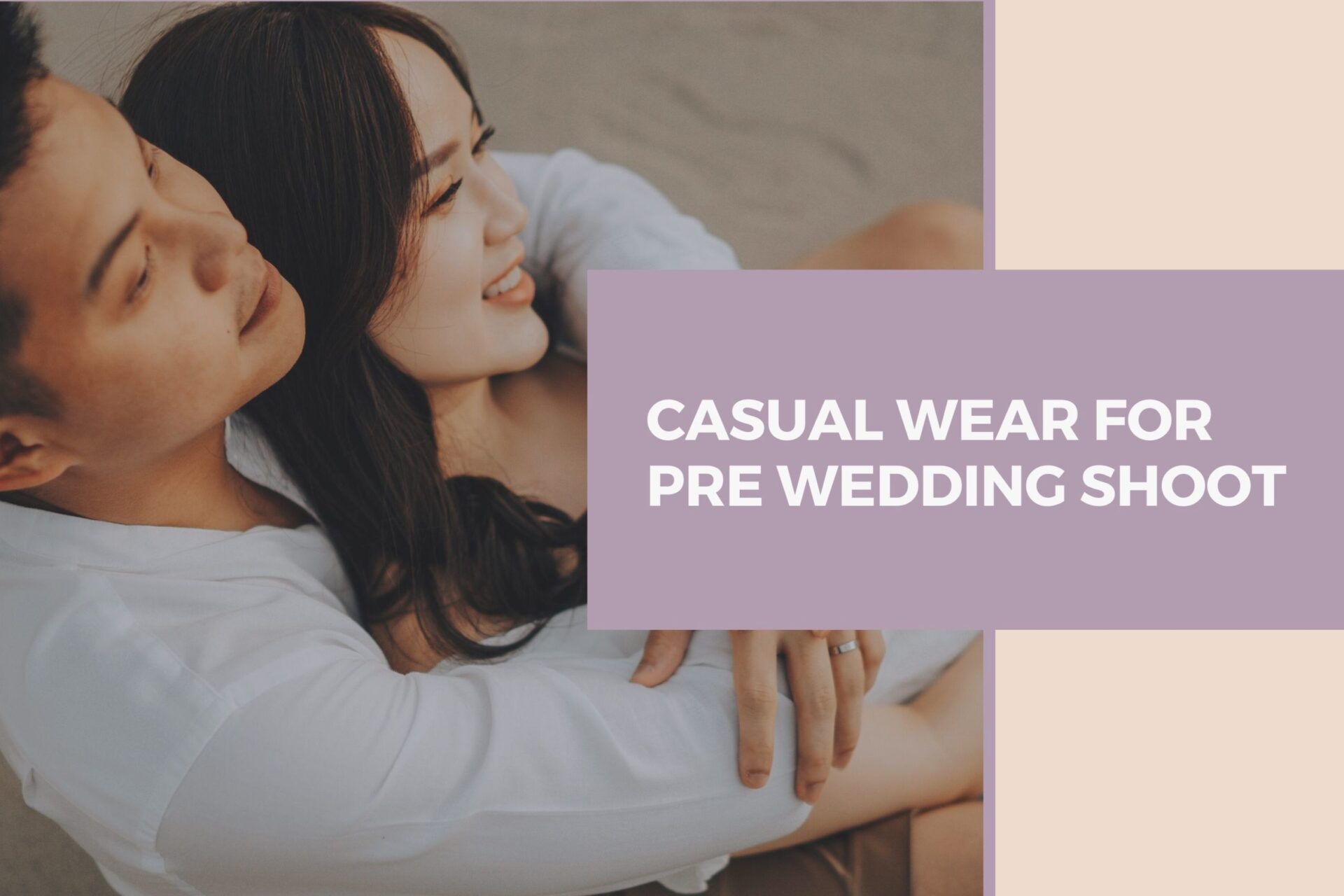 04 Mar

Casual Wear for Pre Wedding Shoot
Casual Wear for Pre Wedding Shoot
When it comes to casual wear for pre wedding shoot, many couples are unsure of what suffices as the perfect outfit. Well, soon-to-be newlyweds, this is a very simple situation that requires a simple fix!
Donning an outfit that makes you feel the most comfortable, is your own perfect outfit. If it makes you feel good and you are able to move with ease, that is the outfit for your casual wear for pre wedding shoot. We just need to help you fine tune in terms of color coordination to suit the surroundings and feel!
Beach is definitely the top choice for our couples in capturing their casual and candid moments. Undeniably, Penang is a beautiful island with amazing beach views, so it is pretty much a no-brainer choice. To top it off, any outfits or styles in any color actually matches the clear skies and sandy beach.

If minimalism and a clean look is your go-to casual, you can opt for white outfits like Ben and Emily. Ben wears a buttoned white shirt with short khakis and Emily dons a midi white dress that brings out simplicity.

If you prefer vibrant and loud, you can opt for a maroon dress like Chia Wen who matches Tze Khang in a smart casual with white shirt and denim pants. This couple exudes a touch of elegance in their casual shots.

On the other hand, Nagen and Vimi opt for a completely different style by keeping a touch of their cultural roots. Vimi moves effortlessly and with such grace in her dark emerald green saree that flows naturally during a breezy morning shoot. Nagen matches her perfectly in the same dark emerald green tone shirt and pairs it with long khakis and outer white shirt.

On the contrary, another couple, Frank dons a shirt with little heart shape prints and Julia in a flower printed dress. Such a cute and fun look! They definitely compliment each other well by sticking to only red and white color tone outfits.
If pastel colors are what bring the biggest smiles on your faces, then go for it! Kieran and Dyana opt for pastel blues and whites when curating their casual outfits. Kieran is seen donning a buttoned blue shirt with white pants. Dyana goes for a white long sleeves top paired with blue denim jumper. In order to embrace her culture as well, she beautifully completes her modern chic look with a pastel lavender-colored tudung!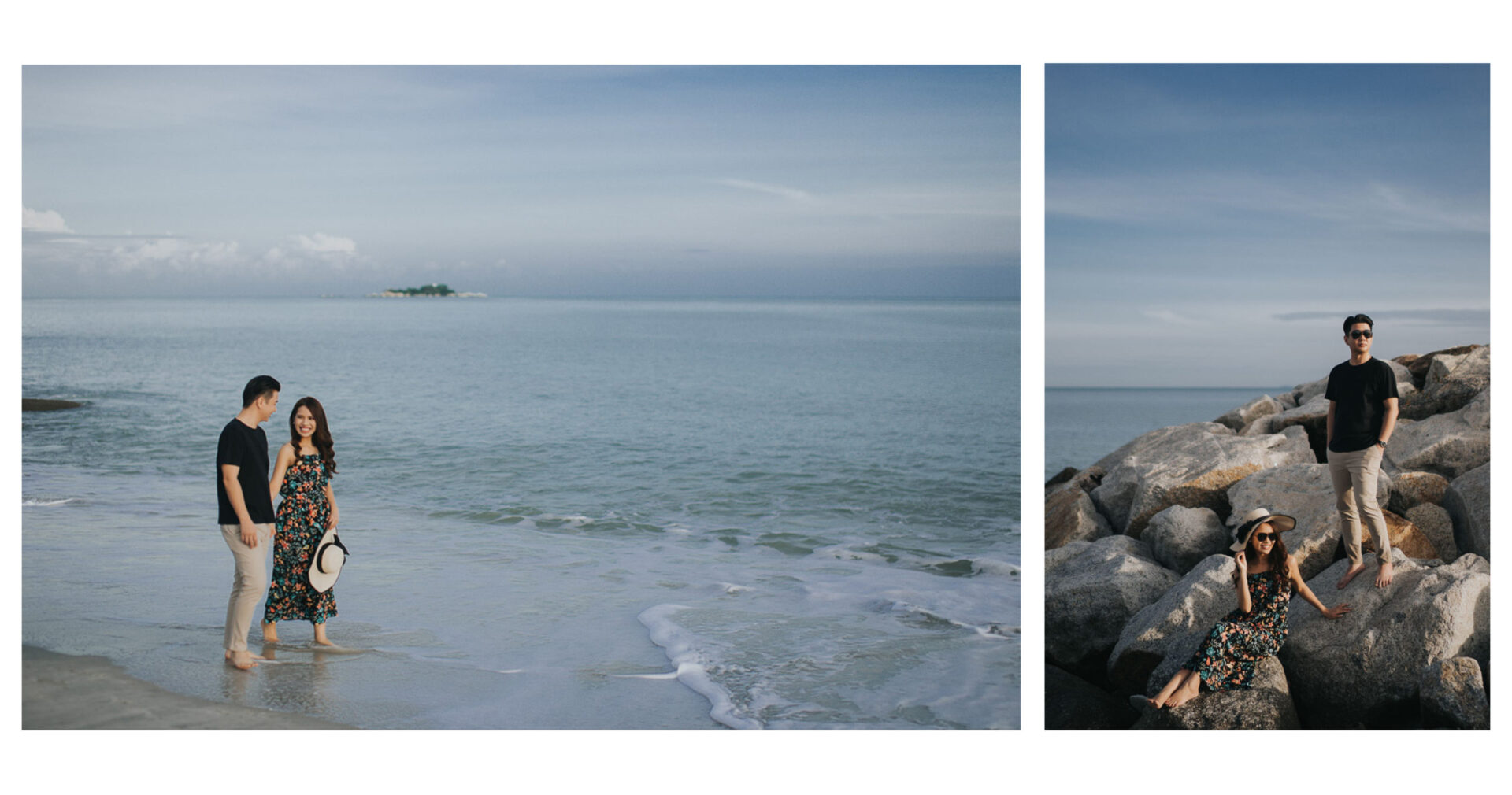 If you love a more casual but tone-down look, you can opt for black outfits like Aaron and Chryl. Black shades and straw hat with black ribbon bow are the perfect accessories to Chryl's black floral printed dress! Looking cool and casual, Aaron dons a simple black t-shirt with long khakis and pairs them with black shades.

Also opting for a tone-down color, are Vicram and Usha who stick to monochrome colors of black and white. Usha in a stripe shirt with black denim dress pairs well with Vicram in a white shirt with black pants.
All in all, the options of style and colors are limitless when it comes to casual wear for pre wedding shoot at the beach specifically. Most importantly, be comfortable in your own skin. Enjoy the process, and that in itself is the best confidence that you can wear!