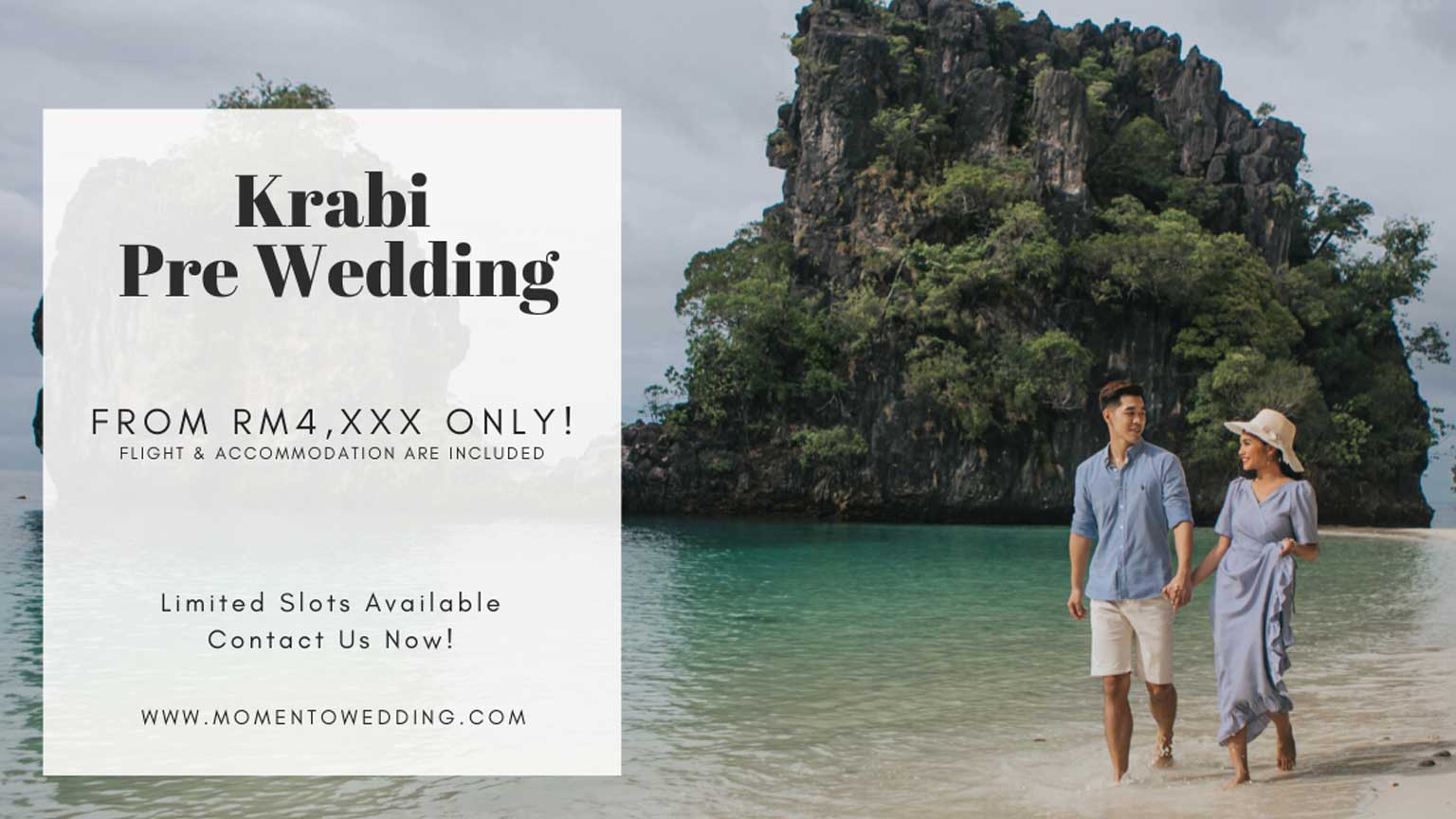 03 Sep

Krabi Pre Wedding RM4,888 only!
Krabi Pre Wedding RM4,888 only!
Package cover bridal gowns, albums, prints, makeup & hairdo etc.
*Crews' airfare & accommodation are included*
Limited to first 2 couples only.

Contact us now for more info!
[Limited slots Available]
Click here for more info

Krabi Pre Wedding
First and foremost, I would like to thank weddingsmalaysia and Tourism Thailand KL, Tourism Thailand for the opportunity to participate in this Krabi FAM trip. Being able to collaborate with the professionals in the wedding industry has brought us new prospective in both technical and experiences. Without further adue, here are the wonderful advature that unfold during the trip.
Day 1
After touching down at KLIA 2, Richard from Tourism Thailand KL, Tourism Thailand was there to welcome us. His excitement made the gloomy morning filled with wonders.
The excitement never end as we touched down at Krabi Airport, Angela and Zabi from Senses Tour were there to welcome us.
Our first stop is Wat Thumsua. It was a really great kick start for the trip as everyone shared the similar fascination of the nature preservation and mystical history behind the temple. I am always fascinated by nature and structures.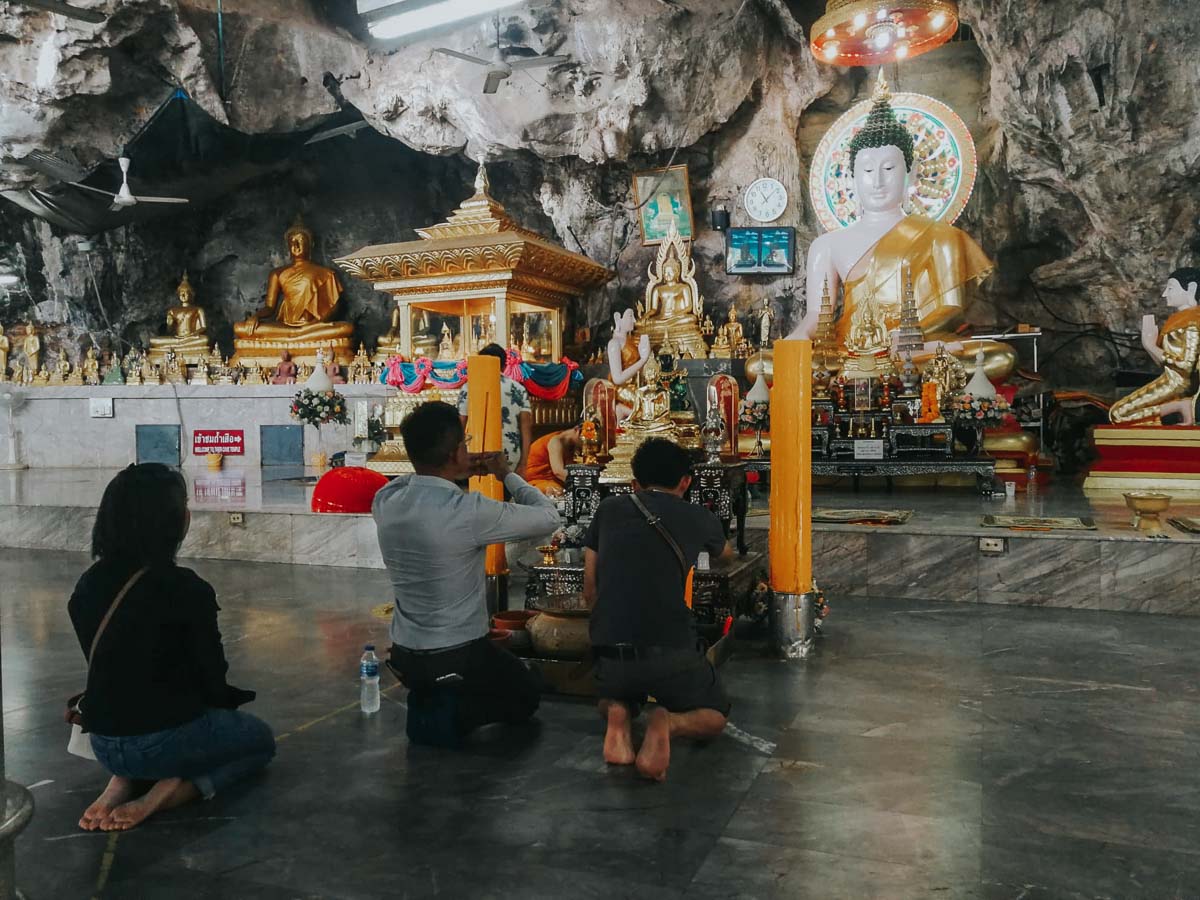 After that we checked in to our hotel Centara Anda Dhevi Resort. Before entering the room, I was expecting a normal single bed room, but to my surprise, I was very surprised for having a double twin size bed room with a considerate greeting card. We always say "it's the little things that matters" and this melted my heart. After that, we were left to our own activities for the day. Not to mention, since we are in Thailand, MASSAGE is the first thing we did after checking in!!!
Day 2
Day 2 was a day of resort survey. Amongst the resort that we visited a few captured my attention.
First is Tubkaak Krabi Boutique Resort. Due to its timber style setting and nature set up of the resort. Besides that it is located right beside the beach! Moreover, if you are I a honeymoon mood, there are villas with private pool for a romance time out. How cool is that?!
Next would be Beyond Resort. For those that love to swim, they have a huge breath taking swimming pool. Upon my first look, I was seriously mesmerized by the size.
After the resort survey, we head to a beautiful sunset view at Ao Nang Beach. The view was so beautiful, everyone in the FAM trip started taking photos until the sun sets. It was really a mesmerizing experience, to be able to witness passionate individuals just enjoying and having fun with what they love doing.
Day 3
Third day was a fullday of photography session!! We went to Hong Island with 2 local talents Nick and Cindy to have our very first Krabi Pre Wedding shoot!
Hong Island is a beautiful beach with stunning view. We were seriously wowed by the breath taking view of the beach.
Huge credit to both local talents as they kept professional throughout the day shoot, despite the on and off rainy weather.
Upon reaching Hong Island, we started the photo shooting session. However, 15 minutes into the shooting session it started pouring heavily. Everyone had to take shelter. It was raining on and off however Richard and Angela made sure that we had enough time for us to shoot.
After shooting at Hong Island, we are ready to depart to the next location for our shooting session. Upon stepping on the boat, we were met with another surprise! Richard and Angela had actually went the extend of gesturing us with cakes and drinks. HIGHTEA in a BOAT!!!
Our final shooting location is at Shellsea Resort. It was really interesting to play around with their unique geometric designs. Furthermore it is close sunset with warm beautiful sunlight. Everyone had fun taking photos with the talents. We were also lucky enough that it rained heavily as we are close to finishing up our shooting session of the day. By then everyone was flat on battery.
Day 4
With all excitement comes an end. By day 4 we visited a few more resort before departing to the airport.
One that caught my eye is Krabi Resort. The first ever resort in Krabi, hence the name. It is build like a water theme park. Truly suitable for families that decides to take a break from a busy life.
Furthermore, there is a unique room located far end of the resort. It was designed by an artist that signifies a lady's long awaited love. Be prepared if you are paying a visit, it is kind of scary. If you happen to stay at Krabi Resort, you may ask the resort personnel for "Yai Sa" sculpture and they should be able to lead you to the location.

Upon arriving at Krabi Airport, Angela, Zabi from and Richard from made sure that we have check in our luggage and we all had a great chat before boarding on to the plane and head back to Malaysia.
Thinking back, I can still feel the excitement and joy that everyone had in the Krabi FAM trip. A huge thank you to Richard from Tourism Thailand and both Angela and Zabi from Senses Tour for keeping us entertained and excited throughout the entire trip. Also, much appreciation for everyone in the Krabi FAM trip willingly share their experience and skills in regards of both photography and their personal involvement of the wedding industry. Hope to be able to meet with everyone again in any future FAM trip!