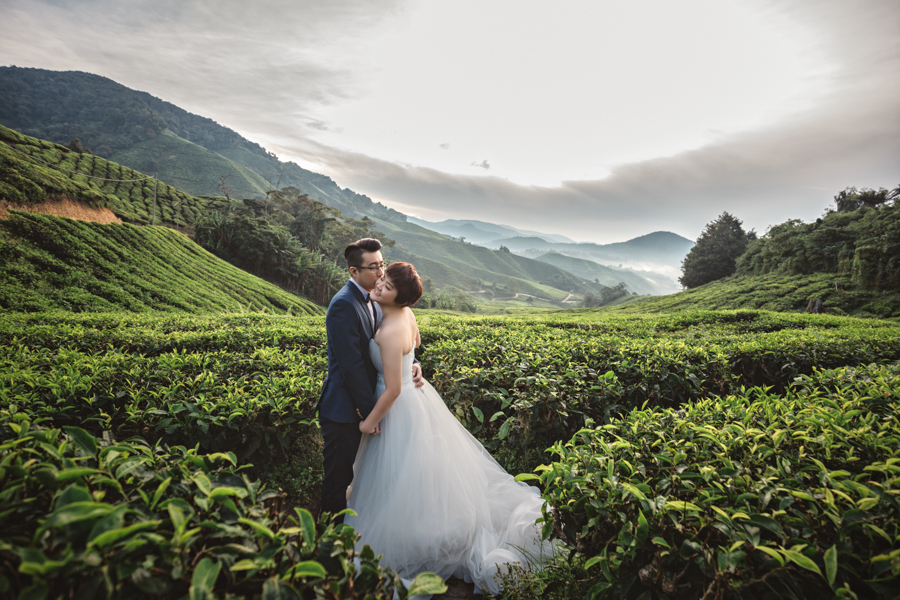 08 Dec

Willie + Mandy | Pre Wedding at Cameron Highlands
Pre Wedding at Cameron Highlands
Penang may be one of the most sought after pre-wedding locations that provide natural picturesque. In recent, many have also been opting out of their comfort zones within our local tourism.
Cameron Highlands has become one of our top choices that we propose to our clients. If they are looking for a location that also provides a scenic naturalistic environment, Cameron Highlands it is!
Willie and Mandy is one couple whom we have the privilage of realising their Pre Wedding at Cameron Highlands wish. Indeed, we are delighted to capture their memorable montage up in the hills of Cameron Boh Tea plantation! Lush greenery and clear blue skies provides an outstanding backdrop with Mandy donning a beautiful white rose gown. The unique rose details on the train of the gown just flows elegantly along the walks of hills.
Besides that, we've also visited the Lavendar Farm whereby Mandy playfully dons a Lavendar gown to match the color setting.
Apart from that, Mossy Forest provides a more dramatic yet elegant approach in ther Pre Wedding at Cameron Highlands. Even though Mossy Forest provides a challenging trail to follow, but our couple enjoy the fun side of it. Indeed, we are able to capture some beautiful shots at pretty risky positions!
When dawn approaches, we head back to the small but warm market town to capture some casual shots. Incidentally, it feels like time stands still and they are the only ones in love among those towners. Eventually, we then head back to our warm and shabby chic homestay whereby our couple gets into a relaxed mode. They sweetly yet playfully makes eye contact and poses that enables us to capture some natural and candid shots.
Click here to check out more photos.
Meanwhile, please follow our Facebook Page and Instagram for up to date photos!