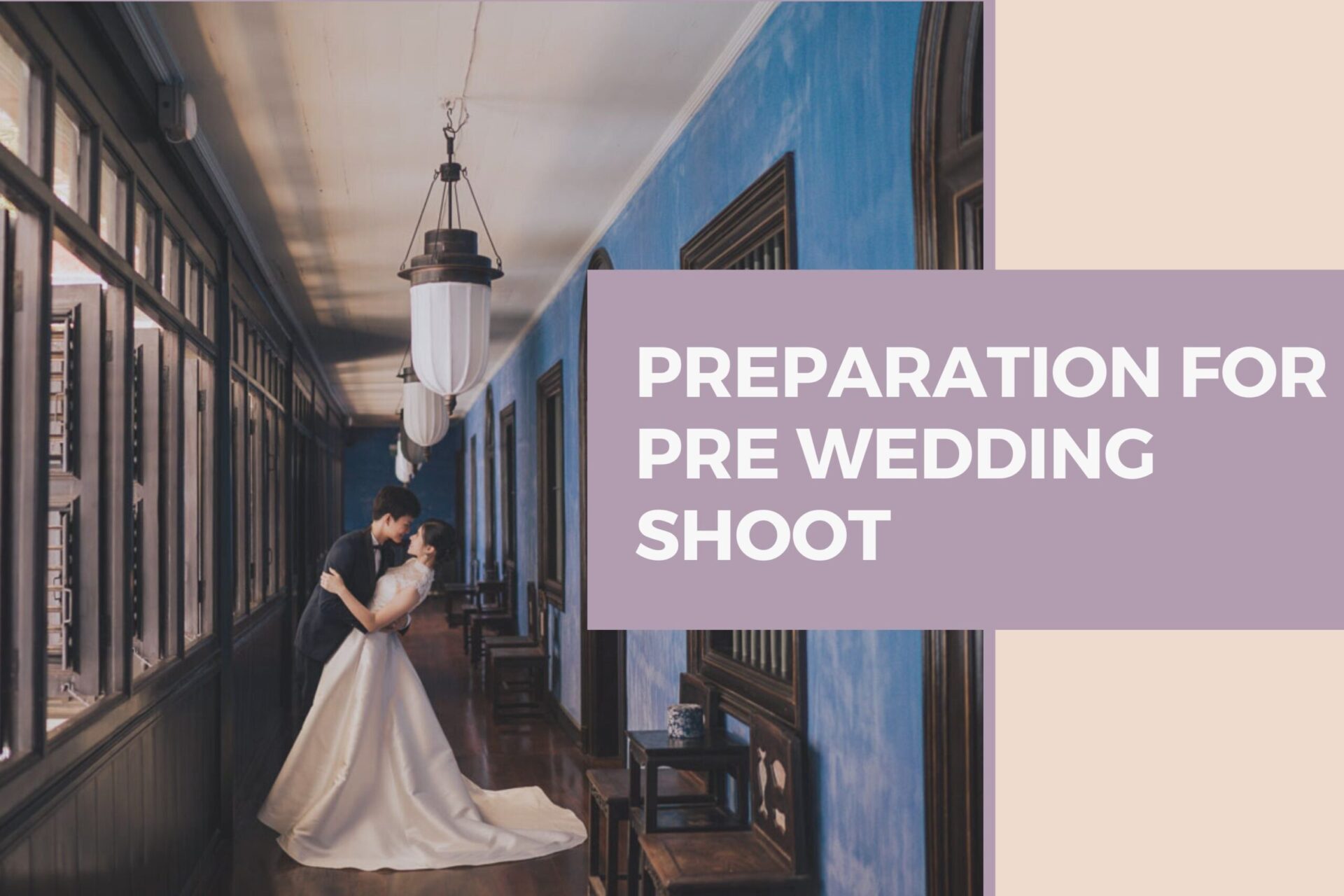 04 Jun

Preparation for Pre Wedding Shoot
Preparation for Pre Wedding Shoot
Trim Your Hair
Trim your hair around ONE to TWO WEEKS prior to your pre wedding shoot. Not too early and not too late. Too early, your hair may start to run out of shape due to the length. Too late, it may be difficult for your makeup artist to be more flexible with different hairstyle changes. One to two weeks prior is the perfect period.|
PS: For a groom who has short hair and especially if your hair grows fast, it is suggested to trim your hair FIVE to SEVEN days before your shoot.
Hair Coloring
A colored hair compared to black will always look more standout in the photos. However, we need you to be YOU and not be transformed into someone who is totally unrecognizable. Not all brides are suitable for colored hair. Likewise, not all colors are suitable for you. If you look better in your own natural black, keep it the way it is. Looking natural in photos is far more important.
Face Mask
It is essential to have a good face complexion. Doing masks frequently nearer to the shooting day will help. A good complexion enables your foundation and makeup last longer and looks more natural.
Nail Polish
Some brides prefer to show details in photos. If you are particular in details, you can consider a natural color nail polish. It should be done within THREE to FIVE DAYS before the shoot.
PS: Do note that nail polish does not stand out in the photos unless the photographer takes a close-up shot of your nails. Most of the time we encourage you to get your nails done for your wedding day instead as wedding day photographers capture them up close.
Color Contact Lenses
You can wear hazel or dark brown color contacts (depending on which suits you most naturally) if you like. The color is suitable for most Asian ladies. Remember, not all colors are suitable for you. Make sure you chose the one that is suitable for you. If you do not wear contact lenses on most days or have never worn them before, we highly advise you to opt out of wearing them for the photo shoot. We want you to be you, and the contacts may also be uncomfortable if you are not used to wearing them on a daily basis.
Maintain A Healthy Lifestyle
Start to sleep earlier for the weeks leading up to the shoot. Especially if you get dark circles or eye bags easily from having a lack of sleep. Getting sufficient sleep enhances your complexion and gives you that natural glow. Start to exercise regularly if you can. Overall, this helps to alleviate your mood and confidence which will definitely bring out the best in you for the photo shoot.
PS: A good night's sleep before the shoot is also very important. It will help you to avoid water retention or look more bloated than usual in the morning.
Casual Outfits
Show your photographer the casual outfits that you will be wearing for the photo shoot. Do not describe them in words. Never take this for granted by just verbally communicating with your photographer or by showing a photo sample of the outfits that are worn by someone else. Everybody's imagination may be different and also, and everyone may look different in the same outfit. So, the best way is to snap a photo of you in a casual outfit, so that the photographer has a clearer idea and is able to advise accordingly.
Check out this link if you need help in choosing your casual wear.
Props For The Shoot
Discuss with your photographer if you have any customized props. Your photographer can advise the shooting theme that best fits your props.
Backup Plans
This is essential which most couples always miss out on. Things may not go your way all the time. What will be your backup plan if it rains on your shooting day? So, make a backup plan with your photography team.
PS: Starting early can be one of the options. If it rains in the morning, you can switch to a later time.

The Don'ts for Preparation for Pre Wedding Shoot
Do Not Wash Your Hair In The Morning
Avoid washing hair on the morning of the photo shoot without properly drying it. It will be very difficult for the makeup artist to style your hair if they are too wet. Especially if you are on a slightly tight schedule, you may end up wasting a lot of time getting your hair to dry up before makeup can begin.
Following Trend
Yes, we know, most of you may have a lot of opinions over what trends are in and out. There is nothing wrong with following the trend. However, we strongly suggest not jumping on the bandwagon and blindly following the trend (especially when it does not fit your character). We strive to create photos that are timeless and natural. Imagine if you are to show your children and grandchildren your photos many years later, and the outfits turn out to be very outdated, chances are you may cringe at these photos. You may feel embarrassed to show them to anyone and just keep your photo albums in the closet.
Take Your Pre Wedding Shoot Early
To have a hassle and stress-free pre wedding shoot, we always encourage our couple to arrange for the photo shoot as early as possible prior to the wedding day. This is one thing off your checklist that you can do much earlier and avoid the stress about leading up to the wedding day. Some couples engage us slightly too late, and as a result, their prints may not be ready in time to display on their wedding day.
A Final Tip For You
Strongly encourage couples to do their part in maintaining the best version of themselves by maintaining a healthy diet and lifestyle. Makeup artists and photographers can enhance and make you look glamorous in photos. At the end of the day, we need you to feel confident, relaxed, and happy. Do not rely too much on makeup and photo editing, because a photo shoot is to capture this special moment in time for just the two of you. Having any superficial expectations just takes away the meaning of your photo shoot. Always remember, natural and simple are always more.
It may take up weeks for the preparation for pre wedding shoot. Trust me, all the hard work you do will pay off in the end with the beautiful photos you will soon get.
Let's look at our Instagram and Facebook profiles to see the outcome.
Contact us if you need help.