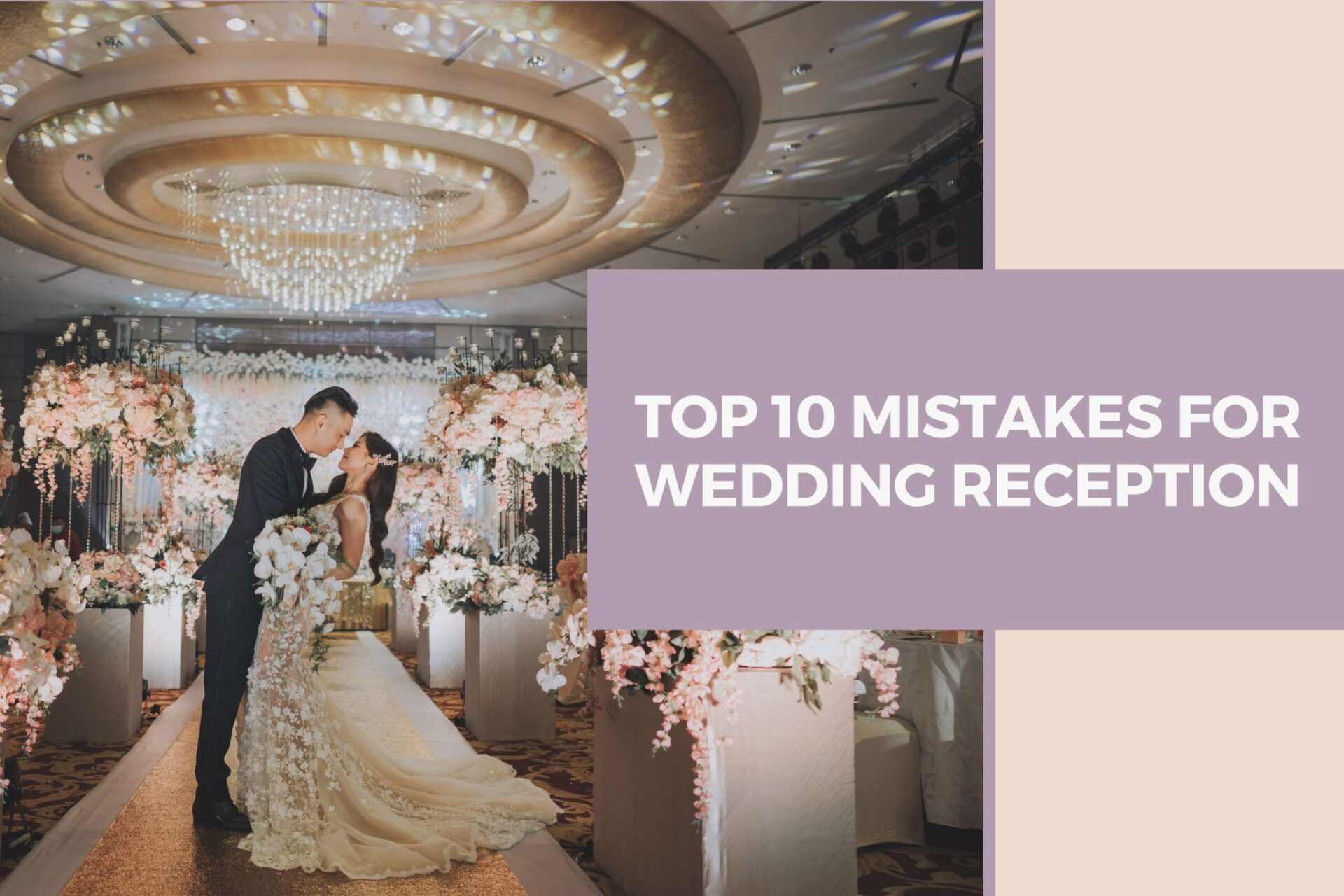 04 Nov

Top 10 Mistakes for Wedding Reception
Top 10 Mistakes for Wedding Reception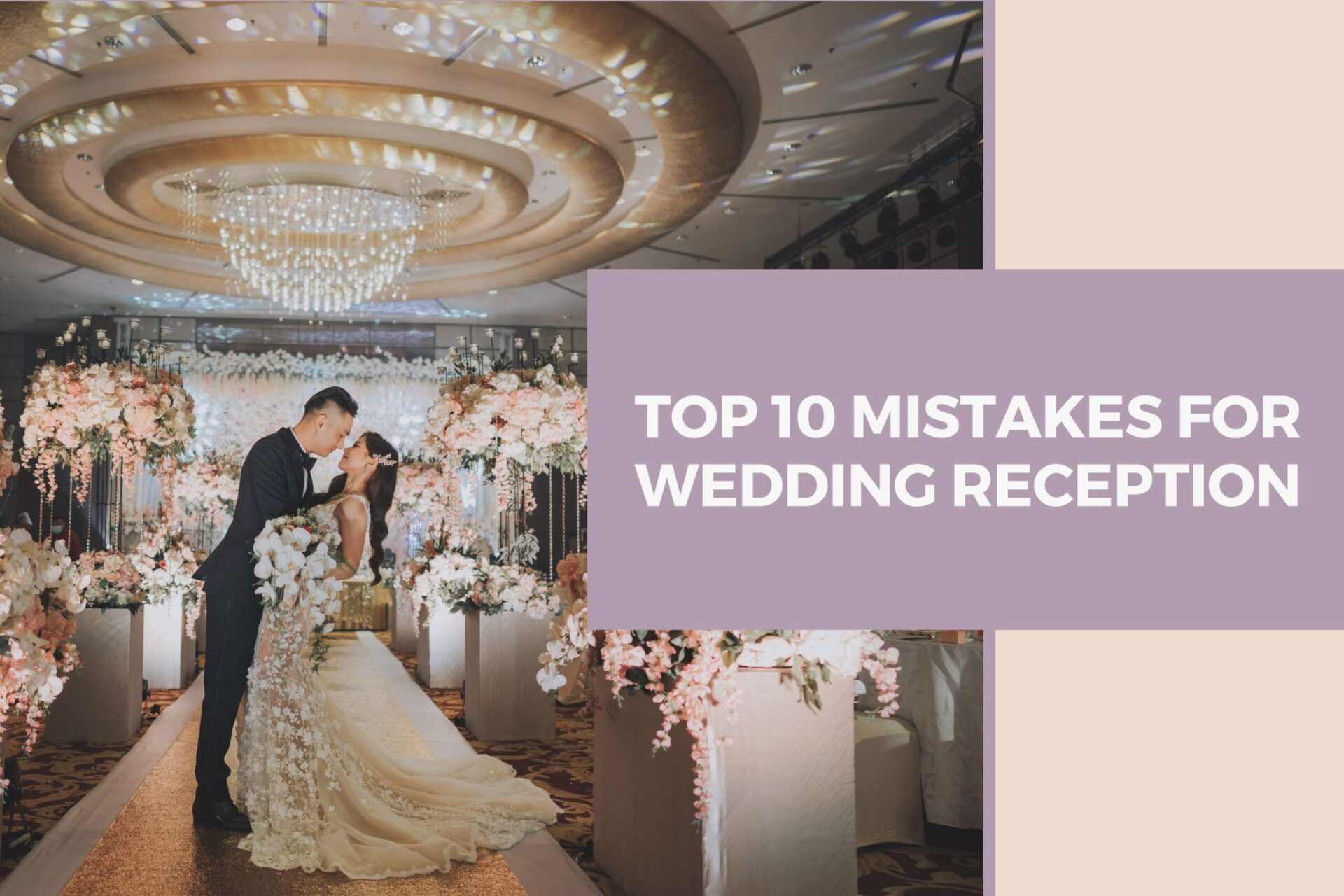 As a wedding photographer, we strive to capture the best moments of wedding couples. However, the couple's plans may not happen accordingly and get jeopardised. Of course, this is not what couples want simply because newlyweds have no experience planning a wedding.
We can tell how much time and effort couples have put into their wedding. It took weeks and months of planning and meetings to make it happen. You want a beautiful record of every detail. If not, all of your efforts will go down to drain.
After 11 years in the wedding industry, I have compiled a list of Top 10 Mistakes for Wedding Reception.
Top 10 Mistakes for Wedding Reception
1. Changing too many gowns
I understand that wedding is once in a lifetime. You want to put on as many gowns as you can. However, changing gowns will make you spend much more time in the changing room than at your own wedding mingling with guests.
Suggestion: Changing into a different gown for the second march in would be ideal. Keep it to only two wedding gowns for one wedding reception.
2. Tea ceremony begins too early
There is no problem with holding a tea ceremony prior to your wedding reception. A tea ceremony before your reception would be ideal for relatives who are not able to make it in the morning or are traveling from afar. However, some couples schedule them as early as 4pm or 5pm. In general, we know reception will begin at around 7pm – 8pm (plus minus). Your guests are aware of this. A majority of your guests will be arriving only for the wedding dinner at a later time. What if they show up too early? They had their tea ceremony at 5pm and will have to wait for your wedding reception that does not begin for another  2 to 3 hours. The long waiting period might not be preferable to some.
Solution: 6pm or 6.30pm is an ideal time, depending on how many relatives are coming for the tea ceremony.
3. Photographers are blocked during march in
Bridal march in is one of the highlights of the wedding reception. Photographers strive to catch the best moments and angle possible. However, friends and relatives will often go straight to the aisle and block photographers and cinematographers at the back. The result shows couples marching in in half-body or blocked hands in the photos.
Solution: Get your emcee to make an announcement. Make your guests sit down and relax. Make sure they cheer and clap as loudly as possible to raise the atmosphere. Leave the work to the professionals and enjoy the reception that you have prepared for them.
4. March in Deco and lights
Couples have spent thousands of dollars on setting up the deco and lights. Very often, the main lights from the stage to the entrance are focused on. However, as the couple march in down the aisle, we can barely see the couple. The spotlights shine only on the decoration, such as the arch or gazebo, and the shadows fall onto the couple.
Solution: Make sure you have a rehearsal before the reception. Check the entire light changes throughout the entire march in. Avoid the shadow falling on you.
5. March in gap too close to each other
It is common for both parents and the flower girl/flower boy to march in with the couple. However, they march in too close to each other at times. It is sometimes too close to the couple at the back. The person in front will block the couple. Furthermore, photographers may not have enough time to capture every one of them if they march in together.
Solution: Talk to your emcee about it. You can have your parents march in and take a seat before they make another announcement welcoming the couple.
6. Play Same Day Edit (SDE) Slide Show when the couple is away
The slide show that photographers prepare during the break after the morning session is known as the same day edit (SDE). Oftentimes, couples play SDE when they are away to change gowns. We put in at least 5 hours of hard work to prepare the SDE. We want to make sure the couple is watching the SDE with everyone else. This is a special recap of the morning ceremony.
Solution: There are two best slots to play the SDE. First, play after the third course or before the couple goes to change their gowns. Second, play after the second march in and toasting on the stage when everyone is seated.
7. Keep a good memory on the stage
Couples often get nervous when they are on the stage. They look lost and do not know what to do. That is the session for cake cutting, opening and pouring champagne, and finally toasting. Lastly, the family members will also be invited to the stage for a grand toast.
Solution: Chill and relax, this is your day.  Take at least one photo with a big smile and look at the camera.
8. Colorful ambience lights
Changing the colors of lights may seem appealing to you. However, they are not photo-friendly. Consider the light colors changing to purple, green, blue, and red that will definitely reflect on your face. Your face will look like a 'superhero' or a character from a movie (think Avatar)!
Solution:  For photos, a slightly warmth or white color is best for ambience.
9. Play Spotify
There is no right or wrong. If your reception itinerary is very packed, you can play Spotify for a few minutes in between. However, if you use it throughout the wedding, it will not create a pleasant atmosphere. It even feels awkward at times.
Solution: Do hire at least a two-piece band to alleviate the atmosphere and create more interaction with your guests.
10. Long train gown for table toasting
We had a nightmare when guests accidentally stepped on the long gown train, causing the bride to trip backwards. During the reception, your guests can hardly see the floor, especially in the second half of the reception, when the lights begin to dim down. Guests can easily step on your train when you are head for your table-to-table toasting. Not to mention, it is not easy for a bride to be lugging a huge and heavy train as you walk from table to table.
Solution: Pick a light and easy-to-carry gown when you go for table-to-table toasting.
These are the Top 10 Mistakes for Wedding Reception. We are doing our best to help with our limited knowledge and experience. If there are more, please share them with us. We are happy to include them.
Check out our Instagram & Facebook Page for more photos.
Contact us if you need further information.