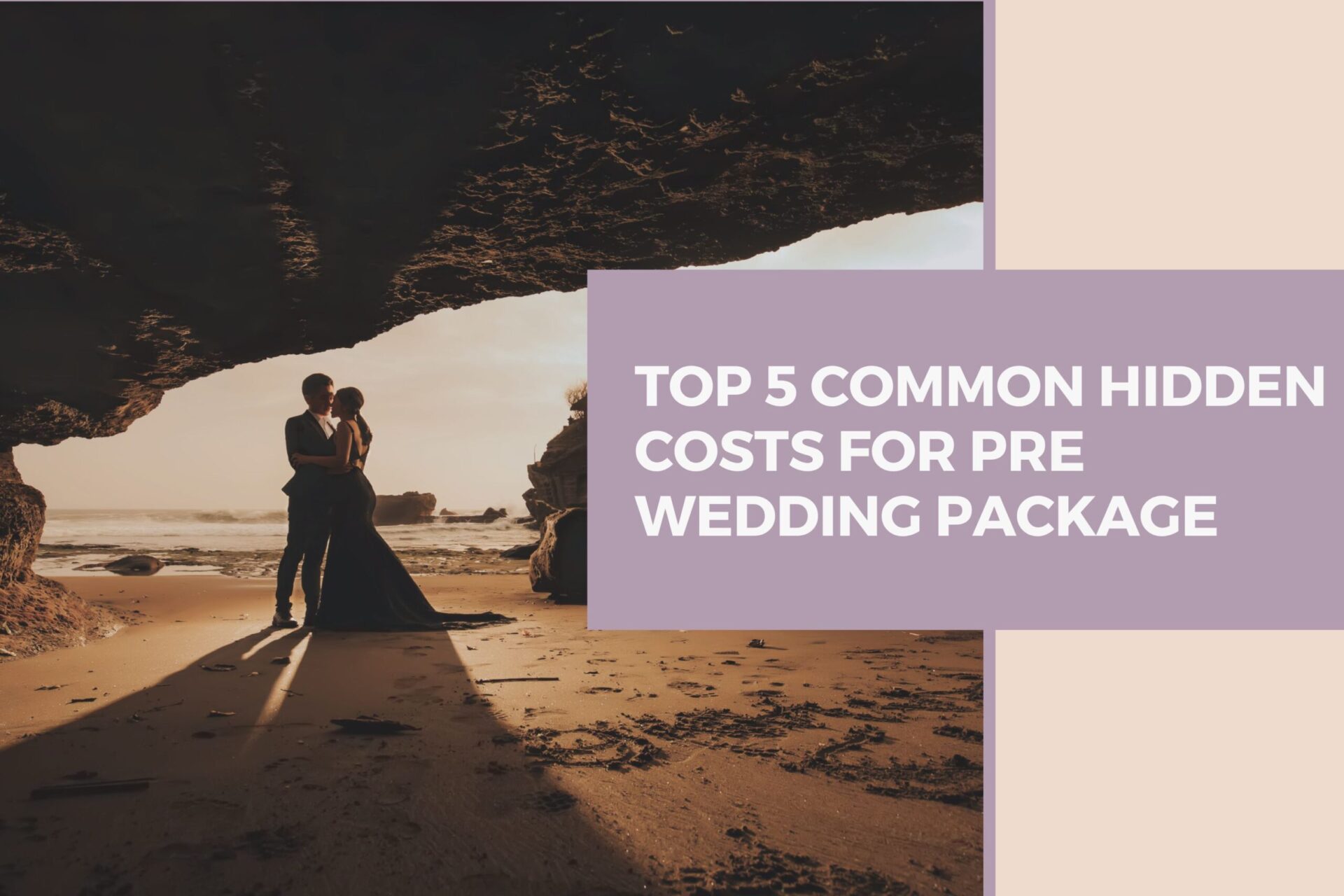 02 Apr

Top 5 Common Hidden Costs for Pre Wedding Package
Top 5 Common Hidden Costs for Pre Wedding Package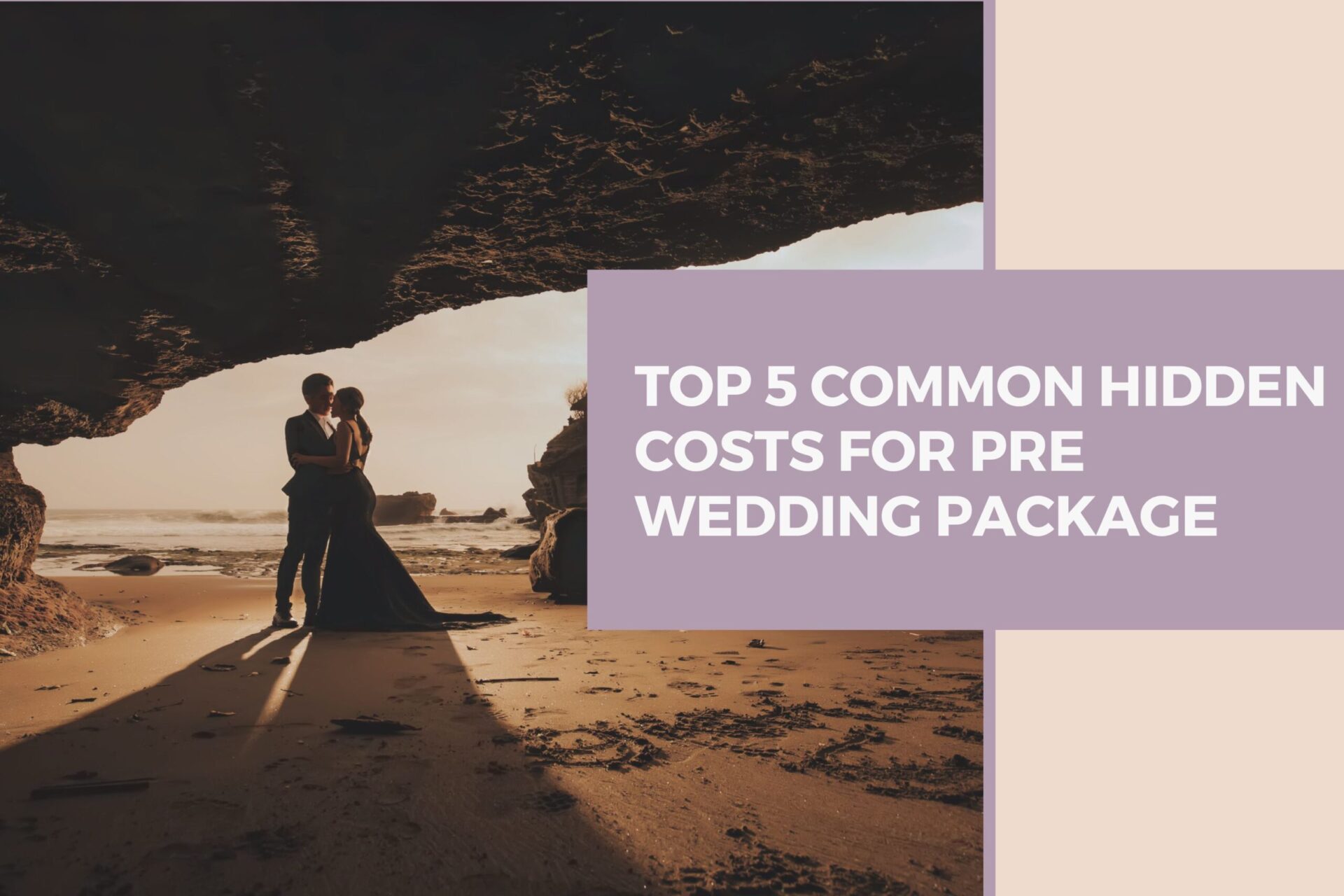 Almost every couple will have a pre-wedding or engagement shoot prior to their wedding. It's an opportunity to capture some lovely memories and create beautiful photos that you will remember for the rest of your life.
However, planning a pre-wedding shoot, on the other hand, can be a challenging task, especially when you consider the hidden costs that can quickly add up. In this blog post, we will look at the Top 5 Common Hidden Costs for Pre Wedding Package, and provide solutions for avoiding them.
Bridal Gowns
Most of the bridal houses will not be upfront with you about the cost of upgrading gowns. Many brides choose to upgrade their bridal gown for their pre-wedding shoot, which can increase the overall cost.
Solution: Find a photographer who offers a package that covers all different ranges of gowns.
–
Bridal Makeup & Hairdo


This

is

the

part that most

 

couples

overlook. The package usually cover basic bridal makeup & hairdo. Typically

,

eyelashes,

ampules,

and

body

foundations

are

not

included

in

the

package.
Solution: Look for a package with everything you need, including the groom.
–
Soft Copies
This is the part that costs you a bomb. Very often, couple will choose more photos than what their initial package provides. This will cost you thousands of dollars if you do not handle it well.
Solution: Find a package that offers all soft copies return.
–
Cancellation or rescheduling fees
If you have to cancel or reschedule your shoot due to unforeseen circumstances, the photographer may charge you a fee.
Solution: Discuss the photographer's cancellation and rescheduling policies in advance so you understand the potential costs if you need to make any changes.
–
Entrance Fees
Choosing a beautiful location for your pre-wedding shoot is an important step in the planning process. The location will bring the ambience to your pictures. However, some private locations, however, charge a fee to use the space.
Solution: Discuss with the photographer whether there is another location that can provide a similar feel to your photos.
Other considerations
In addition to the above Top 5 Common Hidden Costs for Pre Wedding Package, there are some other expenses to keep in mind when planning a pre wedding shoot:
Additional Prints
If you plan on ordering prints or other products, such as photo albums or canvases, you may need to factor in these additional costs. Make sure to discuss the pricing structure with your photographer and factor in the cost of any additional prints or products you may want.
–
Casual Wear
Casual attire is very common for a timeless pre-wedding shoot. You may need to buy new clothes to match your shooting theme. Remember to include the cost of these items in your overall budget.
–
Shooting Props
If you plan to use props for your shoot, such as balloons, flowers, or any customised items, you should discuss with the photographer to determine which items best match your theme.
–
Meals
If this is a full-day shoot, you may need to budget for additional meals.
–
Courier Fees
If you live in other cities or countries, you may be subject to courier fees for the albums and prints.
Overall, these are the Top 5 Common Hidden Costs for Pre Wedding Package and some other considerations. It is critical to discuss your budget and expectations with your photographer, as well as to be upfront about any additional costs that may arise. This allows you to better plan and budget for your pre-wedding shoot and ensure that you get the beautiful photos you've always wanted.
Here at Mometo, we offer ZERO hidden cost packages.
Contact us for more info.
Check out our Instagram & Facebook Page for more photos.