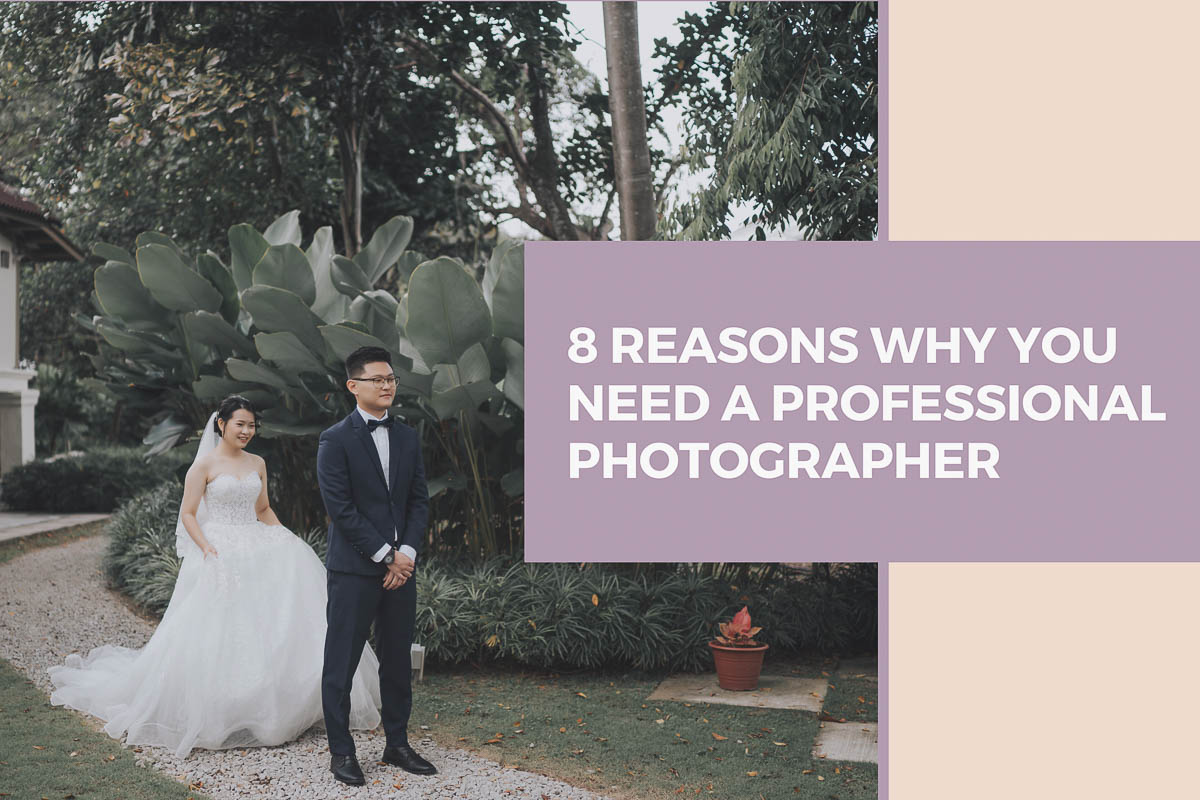 07 Jul

8 Reasons Why You Need A Professional Photographer
8 Reasons Why You Need A Professional Photographer
1. Professional Photographers know what they are doing
– An experienced photographer knows what a wedding flow is like. They know what happens next and when to get ready. They will be at the right spot waiting for the right moment to happen. Hence, professional photographers are able to capture from nicer angles for you.
2. High quality photos for your wedding
– Professional photographers take in RAW. Every single photo consumes a large size which also requires a high-end camera, SD Cards, and other equipment. A professional will at least double or triple backup the photos right after your wedding.
3. Experiences & Skills
– An experienced photographer has invested not hours or days, but weeks and years into studying and experimenting with different techniques/styles to make sure the photos turn out to be excellent. Thus, this is also the reason why awarded photographers' charges are usually higher. The time and money spent in their career is a long journey compared to the rest.
4. Photography Style
– Photography style is something that cannot be translated into words. It is what you feel towards the photos; an emotional attachment that may vary in different individuals too. Different photographer has different ways to deliver the result that they want which turn out to be their own unique style. It is a style that cannot be replaced by another photographer.
5. Enjoy your moment
– Wedding is one of the biggest days in your life. It is the day that you and your special person are bonded for eternity. You definitely want a good memory of that. In order to have a good memory, you need to first put yourself in a stress-free position. If you are stressful, these emotions are likely to turn out in your photos. A professional photographer will ask for the required details prior to your wedding to make sure that they capture every important moment throughout the day.
6. Share your once in a lifetime moment
– You have spent so much time, budget, and effort to make your wedding happen. You want someone to record them because they are meaningful to you. An experienced photographer will have a checklist. They know what are the important items to capture for you.
7. Commitment to you
– The photographer is committed to you as soon as you signed up for their services. They do not only block off the date on their calendar for your wedding, but there are endless preparation, discussions, and editing period which will take weeks, in order to fulfill their commitment to you.
8. The Prints
– Most couples would want a photo print or an album after the wedding. Get your photographer to print for you. They have gone through hundreds of different designs from multiple vendors and they have filtered and chosen the best for you. The style of the prints will likely go with the photography style as well.
These are the 8 Reasons Why You Need A Professional Photographer. We are trying our best to help you in making up your mind before you make your final decision.
Check out our Instagram & Facebook Page for more photos.
Contact us if you need further information.