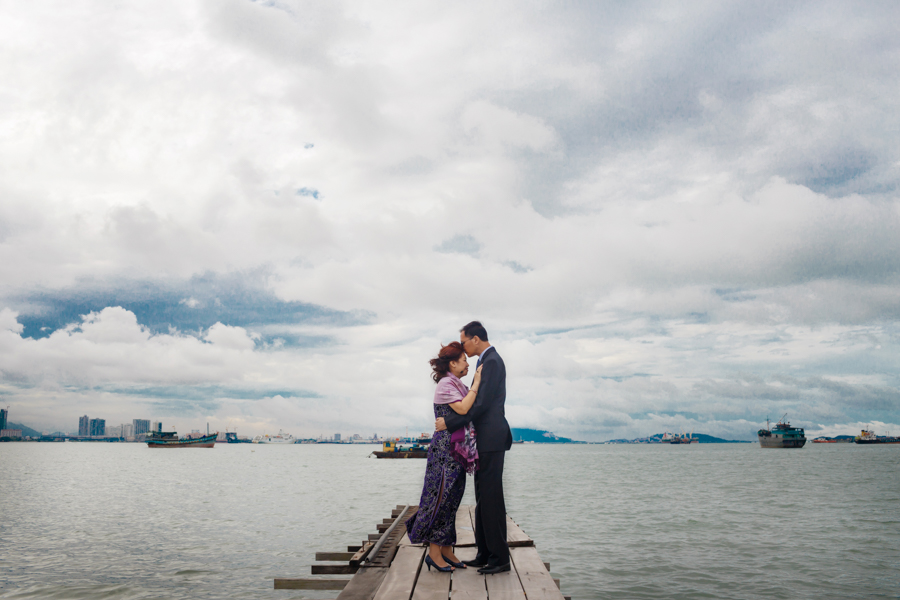 28 Oct

Mr & Mrs Foong | Anniversary Photography
Anniversary Photography
Photographs is one of the best ways to preserve all the good memories that you share with that special one. It is a wonderful thing to be able to find someone whom you love who also loves you back. But it is another thing to be able to have gone through a lifetime of bumps on the road and grow old together.
This is definitely a magical achievement and a moment that is worth being preserved in photographs! We are deeply honoured to be a part of celebrating Mr and Mrs Foong's 35 years of marriage.
Hailing from Singapore, Mr Foong has approached us with a Anniversary Photography idea of gifting his wife with a trip to Penang. He is taking this opportunity to commerate their 35 years of life together. One of the places that Mr Foong has chosen is Tan Jetty and it is indeed a beautiful day! Clear blue skies, overlooking the sea; this provides a perfect picturesque as a destination Anniversary Photography for the loving couple.
We've managed to beautifully capture the casual and candid moments between a husband and wife who deeply adores each other. Mrs Foong is also captivating and has gone for a more elegant approach in a traditional chinese kun qua for a shot at Peranakan Mansion.
Both Mr and Mrs Foong has shown that age is just a number. A love so pure as theirs can still be commemorated and shown in many ways after being married for so many years. Their marriage is as solid as a rock and can definitely stand the testament of time!
Click here to check out more photos.
Meanwhile, please follow our Facebook Page and Instagram for up to date photos!