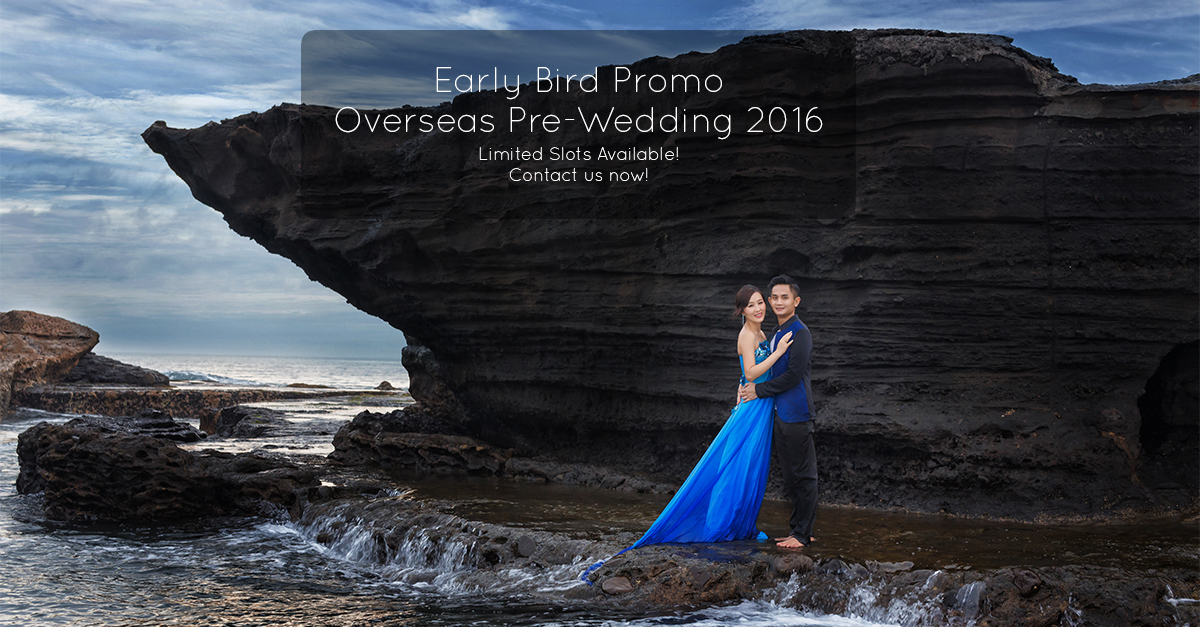 14 Aug

Overseas Pre Wedding Promotion

Early Bird Overseas Pre Wedding Promotion
Limited slots available! Contact us now!
Many clients are asking us if we do Overseas Pre Wedding? My answer is always. I've always wanted to do but I don't have slots for overseas pre wedding. You may not know, photographers will always bring more than 1 couple to have overseas pre wedding. The reason is because we want to cut down our travelling time and save cost. The schedule has to be planned ahead and I always do not have the time to plan for the trip so please make sure to find the more info section.
This time, I take it seriously and I tell myself that I have to schedule overseas pre wedding for 2016 and we will be running an Overseas Pre wedding Promotion. Here are the places that we are planning to go for 2016 and we only open for 2 slots for each of them.
Slots are selling fast, CONTACT US NOW!
Overseas Pre Wedding places as below:-
Macau, Hong Kong
Hua Hin, Bangkok (Thailand)
Seoul, Jeju Island, Busan (Korea)
Shanghai, Beijing (China)
Hokkaido, Kyoto, Tokyo (Japan)
Melbourne, Sydney, Perth (Australia)
Bali, Yogyakarta (Indonesia)
Lijiang, Beijing, Shanghai (China)
Switzerland, Paris, Santorini, Venice, Iceland, Prague (Other Europe countries)
and many more…
If the places of your choice are not in the list, don't worry, we do customise packages for our clients for different places too.
Contact us now to check out more info!
We also offer:-
Videography & Cinematography
Wedding Gowns Rental
Momento Photo Booth
Local Pre Wedding
We are also having Local Pre Wedding. Click here to check out Local Pre Wedding Promotion.
This promotion is SOLD OUT! For more promotion packages, click here for more exciting deals.
Click here to check out more photos.
Meanwhile, please follow our Facebook Page and Instagram for up to date photos!