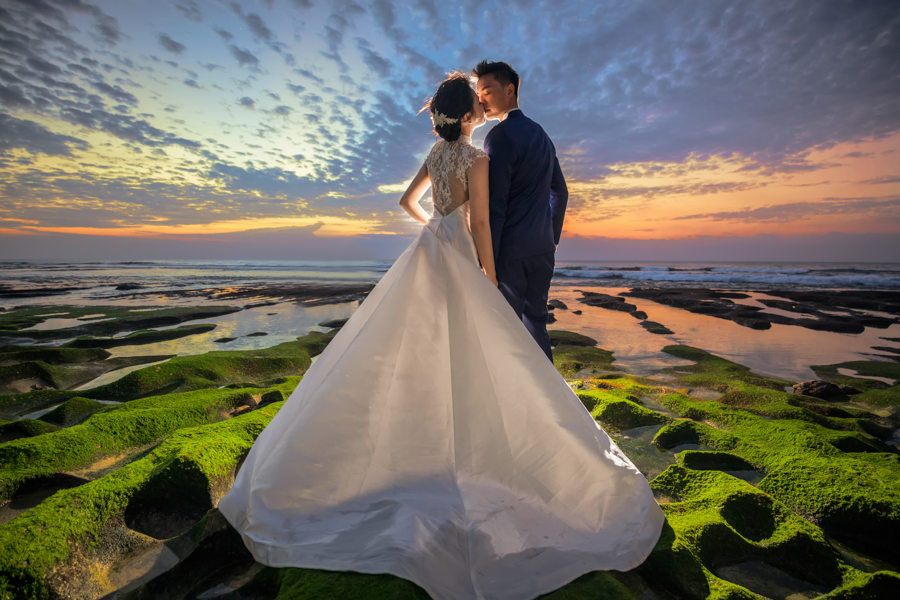 10 Apr

Joel + Rebecca | Pre Wedding in Bali
Pre Wedding in Bali
Bali is a beautiful island in Indonesia. It is known for historic volcanoes, sandy beaches with amazing sunset and more. Hence, it has become a popular destination for weddings and pre wedding shoots in recent years.
Our recent couple, Joel and Rebecca engage us as their photographer for their Pre Wedding in Bali. The locations that we visit are pretty unique and a testament to how beautiful Bali is!
The Ubud Monkey Forest Sanctuary is reserve with a Hindu influence spiritually. It is a conservatory site for rare plants and animals. Rebecca dons a pastel green gown which compliments a dark architecture that has moss and carved rocks in animal forms.
Hidden Canyon Beji Guwang is another tranquil area with carved rocks, with the exception of beautiful waterfalls. Here, Joel and Rebecca opts for a more casual approach as we braze through the rivers to hidden photo spots.
Speaking of waterfalls, we are blown away by the scenic waterfall in the middle of a jungle at Tegenungan Waterfall. Looking beautiful in a white wedding gown, the lush greenery jungle and tall waterfall provides an elegant setting for Rebecca.
Both Joel and Rebecca seem to ease comfortably into elegant poses with some tips from us!
Moving on, Kintamani is a village but it is not any village that we typically see. This historical villages houses the beautiful Mount Batur volcano.
Apart from that, a Pre Wedding in Bali is of course not complete without a shot at their iconic beaches! The Pandawa Beach in Kuta provides a breathtaking sunset view with beautiful reflections from the water at the beach.
It is great to feel the romantic vibes of our couple as they conclude their pre wedding montage in Bali!
Overseas Pre Wedding Early Birds Promotion
We are running Early Birds Promotion now. Bali package starts from RM4,xxx only!
Click here to find out more info!
Contact us now if you are interested.
Meanwhile, please follow our Facebook Page and Instagram for up to date photos!