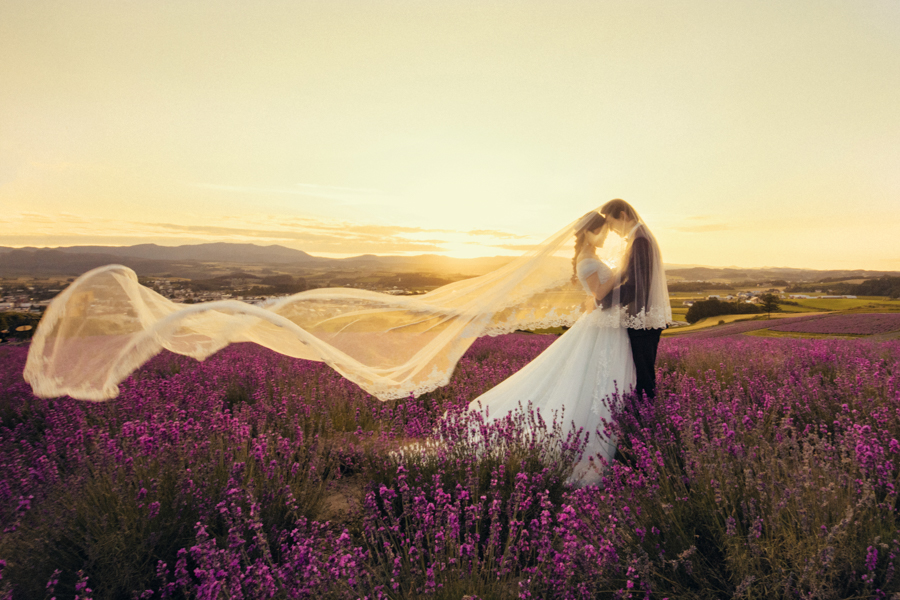 18 Mar

Adrian + Mei Lian | Pre Wedding in Summer Hokkaido
Pre Wedding in Summer Hokkaido
There are so many countries that offer natural scenic views that are perfect for a pre wedding photo shoot. One that stands out recently is Japan's very own Hokkaido!
This beautiful island has such mesmerizing and natural raw beauty. The flower fields, quaint towns, natural hotsprings and ski resorts are some of the hot spots.
To top it off, you can choose from four different seasons. Each season provides its own distinctive feel which adds different touches to your pictures!
Our recent couple, Adrian and Mei Lian opts for a Pre Wedding in Summer Hokkaido. Now, many other locations provide sunshine and greeneries during summertime.
On the other hand, Hokkaido is bustling with rays of colors during summertime thanks to their flower farms! Adrian and Mei Lian choose many locations for their Pre Wedding in Summer Hokkaido.
One of the top choices is Hinode Park that sees a sea of purple blooms and yes, they are lavendars! The best time for pictures is definitely during the golden hour in the evening.
As the sun is setting, it creates such warm and beautiful orange rays. This adds a romantic touch to Adrian and Mei Lian's pictures. Mild Seven Hills is another beautiful scenic landscape as it is covered in wheat fields.
Adrian and Mei Lian opt for a more casual look and candid shots that involves an adorable teddy bear too. Another casual feel is taken at Otaru Town, a busy but quaint and charming town. Notably, Otaru Canal has a line of quaint café and shop in old rustic wooden warehouses.
For a view with colonial and architectural building, we head over to Former Hokkaido Government Office. This exudes an elegant touch to the pictures with Mei Lian in a gown and Adrian in a suit. Eventually, we end the photo shoot with some breathtaking night shots at Ningle Terrace!
Overseas Pre Wedding Early Birds Promotion
We are running Early Birds Promotion now. Overseas Pre Wedding packages start from RM4,xxx only!
Click here to find out more info!
Contact us now if you are interested.
Meanwhile, please follow our Facebook Page and Instagram for up to date photos!