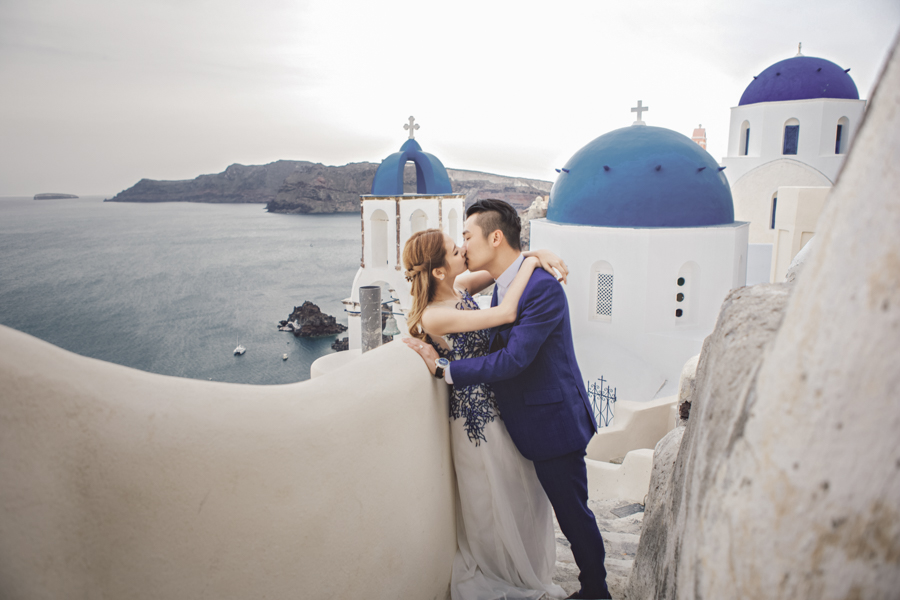 19 Oct

Lester + Cheryl | Santorini Pre Wedding
Santorini Pre Wedding
Santorini has always been a dream destination by many because it is one of the most romantic places in the world. This breathtaking location has become one of the top chosen places by soon-to-be newlyweds. In other words, it is a perfect setting for many couples' pre wedding dream.
When Lester and Cheryl first approach us to engage our photography services, they too have had a Santorini Pre Wedding concept in mind. Indeed, Cheryl has brought along plenty of flawy and vibrant coloured gowns. This fits right in with the whitewashed houses hanging by the cliffs and clear blue skies. Most importantly, the charming town of Oia definitely provides a beautiful pictureque view for their Santorini Pre Wedding!
Both Cheryl and Lester are donned in matching shades of navy blue and white. This matches the whitewashed walls with touches of blues in the background. Their devotion and love towards each other is also beautifully captured overlooking the sunset that washes over the cliffs in the late evening. Pygros, another strategic spot situated at the top of a hill provides another setting for their Santorini Pre Wedding. It is a village that provides a gorgeous panoramic view of the famous Greek island. Not only that, you can never miss the sight of the most talked about blue dome as well!
They then head to Black Sand Beach for a more casual shoot. Both Lester and Cheryl are captured walking hand in hand against the beautiful big waves and clear sea water. They seem to be comfortable and at ease and definitely crazy in love with each other as they casually walk bare footed along the beach. Besides that, Cheryl has also changed into a flowy chiffon gown for some shots at their hotel. In fact, they've emulated the trash-the-dress concept by jumping into the pool to get some really cool shots!
In conclusion, it was a very memorable trip for the couple and also us. Therefore, we are looking forward to creating more Santorini Pre Wedding memories for our clients!
Interested in our package?
Overseas Pre Wedding for 2017 is now open for booking. Contact us now for more info!
Meanwhile, please follow our Facebook Page and Instagram for up to date photos!