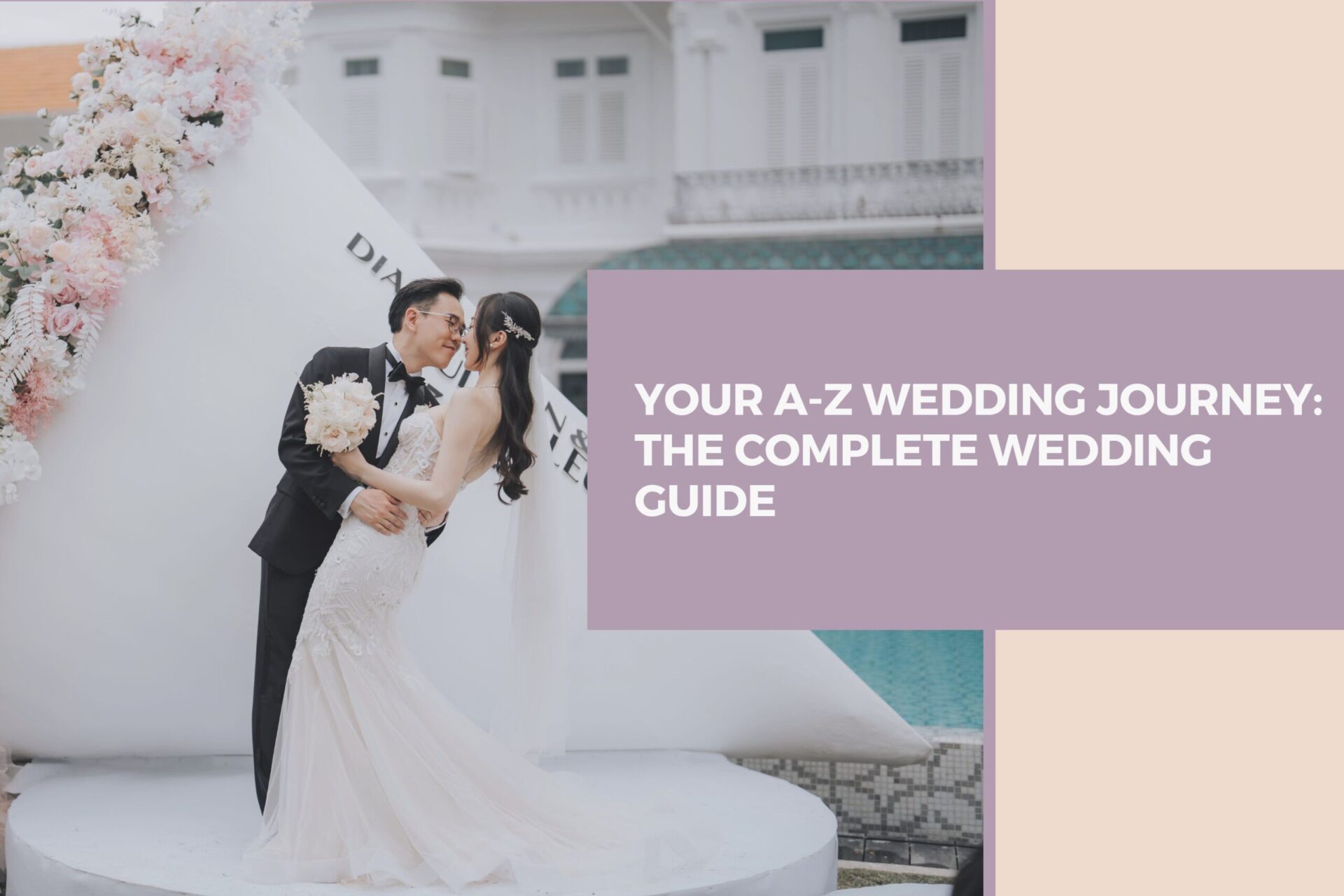 03 Jun

Your A-Z Wedding Journey: The Complete Wedding Guide

Your A-Z Wedding Journey: The Complete Wedding Guide
This phenomenal guide is intended to assist couples in capturing their special day in the most delightful way possible. Learn how to choose the best wedding photographer, communicate your vision, and capture every intimate moment. Get ready to transform your wedding into a collection of everlasting memories on your wedding day.
In this blog post, we will go through the essentials and the options.
Essential: Selecting Your Wedding Date
In Chinese culture, choosing an auspicious wedding date is deeply rooted in tradition and symbolism. By selecting a date believed to bring good fortune and harmony, couples honor cultural customs and invite blessings into their married life. This practice reflects the significance of cultural beliefs and adds a meaningful layer of symbolism to their wedding celebration.
Tips: We update auspicious dates annually, so be sure to follow our Facebook and Instagram for announcements.
Essential: Wedding Budget
Crafting Timeless Memories starts with crafting your wedding style and theme, and carefully analyzing your must-have elements and budget considerations. Your wedding day is a reflection of your unique love story, so choosing the right style and theme is crucial for creating an atmosphere that reflects your personality.
Tips: We have a blog that will walk you through How to Set Wedding Budget
Essential: Finding the Perfect Venues
Finding the ideal wedding venue is one of the most significant components. Prepare to explore different possibilities such as indoor, outdoor, destination, and more. When selecting a venue, capacity, location, and ambiance are important in establishing the desired environment. Whether you envision an intimate garden ceremony or a grand ballroom reception, finding the ideal venue sets the stage for your dream wedding.
Essential: Choosing Your Vendors
Choosing the right vendors is critical to bring your dream wedding to life. From photographers, makeup artists, caterers, decorators, florists etc, thorough research and comparisons are key to finding professionals who align with your style and preferences. Putting up a team of talented vendors who share your enthusiasm can help you create a truly memorable wedding experience.
Optional: Engaging a Wedding Planner
When it comes to wedding planning, couples often struggle with plenty of chores and decisions. A wedding planner can help you find vendors who match your preferences while staying within your budget. The wedding planner becomes a great resource in assembling a team of talented professionals who will contribute to an extraordinary wedding experience. You can comfortably enjoy a wedding with the help of a wedding planner.
Optional: Designing Your Wedding Invitations and Stationery
Design stylish invitations by selecting the right paper, typography, and design elements. Apply the design to RSVP cards and thank-you notes. Add luxury and originality with printing and accents. By spending time on invitations and stationery, you may express your creativity and leave a lasting impression on your guests.
Essential: Finding the perfect wedding gown or suit
For the bride, the wedding gown is an emblem of elegance and grace. Explore a world of exquisite fabrics, intricate lace, and delicate beadwork. Consider silhouettes that flatter your figure, from romantic ball gowns to sleek mermaid styles. Allow your imagination to soar as you explore unique necklines, captivating backs, and enchanting trains.
For the groom, embark on a journey to find a suit that exudes confidence and sophistication. From classic tuxedos to tailored suits, explore a myriad of fabrics, colors, and styles that showcase your individuality. Pay attention to details like lapels, cufflinks, and pocket squares that add a touch of personality to your ensemble.
Tips: We have a blog that will walk you through How To Find The Perfect Gown For Your Body
Optional: Spending money on a custom-made dream gown that fits perfectly and has all the details you want is definitely worth the penny spent. it shows off your style and who you are.
Essential: Creating a Delightful Wedding Menu
A pleasant wedding meal is essential in creating an unforgettable dining experience. Design an exclusive meal that matches your style and culture, incorporating both conventional and innovative flavors. Catering to a wide range of dietary preferences, elevating presentation techniques, and leaving a lasting impact on your guests' palates and memories.
Essential: Capturing Everlasting Moments
It is extremely important to capture the timeless moments of your special day through wedding photography and videography. Firstly, choose experienced professionals who can beautifully translate your concept into visual storytelling, with an eye for detail and an aesthetic style that appeals to you. Moreover, communicate closely with them, discussing details, ideal styles, and special requests, to create a unique collection of photographs and videos that truly represent your love story. Additionally, consider the various styles accessible that provoke the right feelings and aesthetics. Above all, remember that wedding photography and videography are more than just pictures; they are windows into the emotions, laughter, and tears that fill your day, capturing precious memories for future generations. Lastly, trust the professionals to weave their magical hands and capture the everlasting essence of your wedding day.
Essential: Managing Wedding Logistics and Timelines
Planning a wedding involves many moving parts, and creating a detailed wedding timeline is the first step in keeping events flowing smoothly on your big day. Coordinating with your vendors, allocating specific roles and responsibilities, establishing clear expectations, and communicating effectively to ensure a smooth flow of events is crucial. A well-managed timetable relieves stress and allows you to fully enjoy your special day.
Optional: Hiring a wedding coordinator may enhance the flow of your wedding significantly. Their expertise in logistics, coordinating with vendors, and troubleshooting issues ensures a stress-free experience.
Essential: The Sweetest Indulgence: Wedding Cakes and Desserts
Collaborating with a talented baker is essential in designing the perfect wedding cake, a centerpiece that mesmerizes both the eyes and taste buds. From intricate designs to unique flavors, the possibilities are endless. Of course, if you don't think a wedding cake is necessary, a mock cake may be enough.
Optional: Celebrating Love with Personalized Wedding Favors
With personalized wedding gifts, you may express appreciation and celebrate love. Pick a meaningful gift that can reflect something about you. From customized trinkets to DIY creations or unique keepsakes, these favors create lasting memories and serve as tangible reminders of the joyous occasion shared with loved ones.
Essential: Planning a Memorable Reception
Organize a well-structured timeline that allows for a seamless flow of events, from cocktail hour to speeches and dancing. Select entertainment that sets the desired atmosphere, such as live bands or DJs. Incorporate interactive elements like photo booths and lawn games to engage guests and create lasting memories. By carefully considering these details, your reception will be a highlight of your wedding day, filled with joy, entertainment, and cherished moments for both you and your guests.
As we conclude Your A-Z Wedding Journey: The Complete Wedding Guide, it's clear that planning a wedding is a complex and emotional process. From venue selection to decor design, logistics management, and tradition navigation, every detail is crucial. Throughout this journey, we've provided guidance and inspiration, emphasizing the importance of personalization and creating a memorable experience. Now armed with knowledge and creativity, embark on your remarkable adventure of planning your dream wedding. May your journey be filled with joy, love, and unforgettable moments as you begin an extraordinary union.
If you have additional ideas or concerns to raise for this 'Your A-Z Wedding Journey: The Complete Wedding Guide', please contact us. We are thrilled to incorporate them and ensure an even more comprehensive resource for your wedding planning journey.