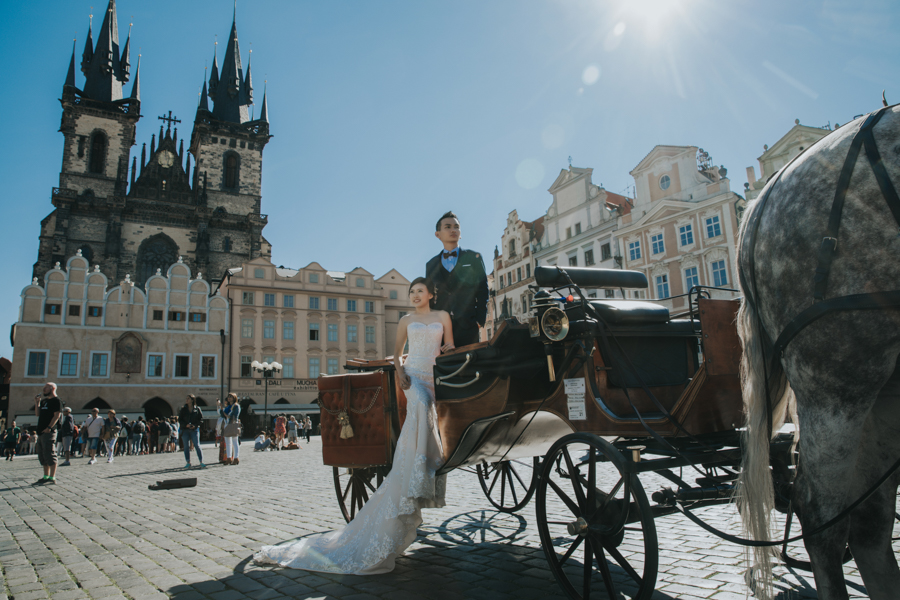 25 Apr

Sam + Wendy | Wedding Photographer in Prague
Wedding Photographer in Prague
If you have big love for intricate architectural that has historical influences, you can hire a Wedding Photographer in Prague!
Prague is a city situated in Czech Republic and is one of the largest. We have had the pleaure of hosting our first couple, Sam and Wendy in Prague pre wedding. Famously known for its Old Town Square, we are so excited to be able to cover at such a uniquely historic venue!
All these baroque-designed buildings, Gothic churches with charming lanes provide such character to our shots. This historical part of Prague is breathtaking and we even capture shots of Sam and Wendy in a horse carriage.
Prague Castle is another beautiful archicture that we head to for their shoot. It is a UNESCO monument that dates back to more than 1000 years.
As Sam and Wendy's Wedding Photographer in Prague, we capture some beautiful moments with elegant poses. The castle has such a grandeur style in its own that we opt for some evening shots too. With that, our lighting equipment comes into play.
A pre wedding in Prague is also not complete without visiting the beautiful Charles Bridge. This historic Gothic bridge crosses the Vltava river which serves as a pathway between the Old Town and Lesser Town.
On this bridge, you can see monuments of different symmetries in the background. The Swan River which is located nearby the Charles Bridge is also a charming spot. Do spot these adorable peck of swans in the pictures! Lastly, Sam and Wendy opt for a casual and candid touch at the Prague Botanical Garden.
This sea of greenery trees and plants definitely provides a contrasting change of scenery to the photo shoot. All in all, it is such a rewarding experience for the entire team.
We are running Early Birds Promotion now. Overseas Pre Wedding packages start from RM4,xxx only!
Click here to find out more info!
Contact us now if you are interested.
Meanwhile, please follow our Facebook Page and Instagram for up to date photos!